GVN Writers Year in Review
When summarizing the past year, it's hard to begin talking about 2020 without mentioning the huge elephant in the room, The Pandemic. There is no doubt that COVID-19 set the tone for the entire year. Especially when it came to the entertainment industry. Not only were many movie productions shut down, but it also shut down the theaters as well. Not good news for anyone.
However, as in most things, when given nothing but lemons, you make lemonade. That is what the streaming services and studios have tried to do. However, what success they will have is yet to be determined. So if our friends in the entertainment industry can attempt to find a way to turn a positive into a negative, so can we. With that in mind, we at GVN present our 2020 year end in review, or as we call it: "Separating the Diamonds from the Coal."
The Diamonds In The Rough
Martin: That being said, that didn't stop some of the cons from offering virtual versions. Both Wizard and GalaxyCon scheduled numerous gatherings of their celebrities. They would do free Q&A's, offered one on one meetings, autographed pictures, and the like. And while it was not the same thing as the actual comic cons, it did help a bit to fill the void. A small diamond in a bag of coal.
Because of all this rescheduling, the one lone Marvel production that came to completion was ABC's Marvel's Agents of Shield. This was because all of their filming had been completed at the end of 2019. As such, they were pretty much the main event as far as Marvel went and it ended its seven-year in style. Most of the loose threads were tied while still leaving avenues for later stories. When and if they chose to do so. A job well done and it was one of my highlights for 2020.
Tia:
Narcos: Mexico season three was renewed! HBO Max debuted The Flight Attendant and we finally got season two of The Mandalorian! I would say those, for me; are some very nice diamonds. On top of that, American Gods premiered its official trailer for its upcoming third season. And even though 2020 has been hard, it has taught me not to take anything for granted. It helped me work more independently and allowed me to take a moment to breathe and to appreciate the people I have in my life.
Ish:
The Diamond: 'Hamilton' on Disney+ (directed by Thomas Kail)
Let's not mince words: 2020, for many of us, has been a bucket of coals. The diamonds are there, but you have to sift for them. "Hamilton: An American Musical," a historical rap-drama that creator Lin-Manuel Miranda describes as a story about "America then, as told by America now," has shone bright and true since its premiere in early 2015. It earned Miranda a record-breaking 16 Tony nominations, and the original cast album has become the best-selling of all time.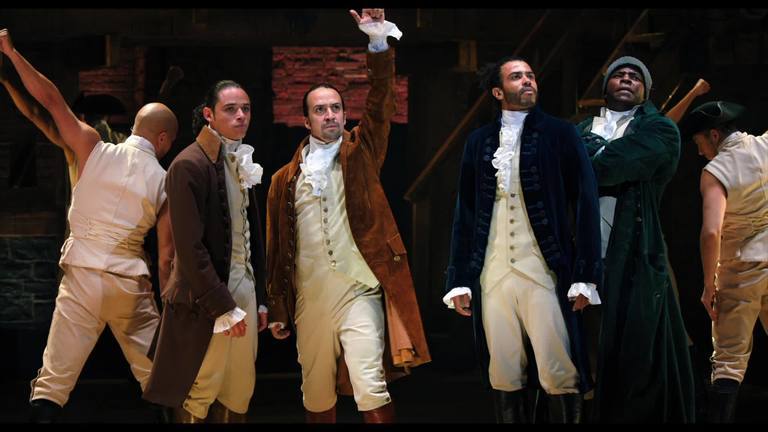 However, with ticket prices starting in the hundreds and ending in the thousands, you'd have to be rich, lucky or both to have seen it in all its glory… until July 3rd, 2020. The show's original cast performance, starring the now-legendary Lin-Manuel Miranda in the titular role and the incomparable Leslie Odom, Jr. as the antithetical Aaron Burr, is available for any and all who can afford another streaming service membership. In such a crucial election year, 'Hamilton' served as a reminder that a country is built upon hope, belief, and the will to manifest change, for better or worse.
Dillon:
In a year where so much has been truly awful, one of the bright spots of the year was the Sundance Film Festival that happened back in January. As someone who had a habit of watching 2-3 movies a week in theaters before the pandemic, not experiencing that since March has been incredibly rough. It was made slightly better by seeming some of my favorite films of the year in the snowy mountains of Utah before all this madness hit. Movies like Promising Young Woman and Minari are making a lot of year-end lists, but there are so many additional great titles that made an impact on me at the festival that has gone under the radar.
Films such as Kajillionaire, Black Bear and The Mole Agent had me grinning from ear to ear. Nine Days, which will be coming out in summer 2021, is still the best movie I have seen all year. Sundance always seems to be the festival that offers up some of my favorite movies of the year, and this year was especially strong for film lovers.
On a more personal note, I am also so honored to have been welcomed in by the GVN community at large this year. Not only have I met so many amazing people on the staff, but the response from readers to my articles has made this year significantly better. I sincerely appreciate anyone who has taken the time to read anything that I have written. Thank you for allowing me to bring you content from across all genres and time periods with equal enthusiasm.
Michele:
2020 what a year. So much I think we are all ready to kiss it Good-Bye. When asked to write my

diamond

and Coal for the year I really had to think, the entertainment industry has been hit hard this year. My first diamond is that I found Geek Vibes Nation thanks to my son. I joined at the beginning of the year and it's been a wonderful ride ever since. Thank you GVN!
Lucifer Season 5's first 8 episodes were the highlight of my year. Since moving to Netflix the show has really flourished, been a lot of fun, with some Big Moments we've all been waiting for. Moving to Netflix has also had its advantages, never ever did I think we would see Tom Ellis' backside (S5Ep2). This is my favorite of the five seasons. I think "Lucifer"'s newest seasons on Netflix have benefitted from clearer character arcs, more suspense, and more ambitious involvement in even the supporting cast. Overall the Lucifer this season has fulfilled all my Desires.
Dom:
Fortunately, I'm somewhat of an optimistic person. Therefore, I know there's always a diamond or two among all the coal. My diamond has been that through all the tragedies, hysteria, racism, and stupidity, I was able to put my own infinity stone on the hand of the woman I can now call my wife. We didn't need the world to be open for our wedding because honestly, the fewer people there, the better. But seriously, just as we joined together under love for one another, I have no doubt that humanity will do the same. And as they say, time heals all things, we just need to hurry the hell up
Cainan:
2020 has not been the kindest of years but I have say the GVN team has been stronger than ever. I could not ask for a better group of friends, writers, critics, podcast hosts and content creators. I love the team we have now and I hope in 2021 we can continue to grow even stronger and add even more people to the fold. We saw our numbers rise on the site this year and we had our best year ever when it comes to interviews and movie reviews.
Dom has been such a great asset on the movie review front, Dillon has been killing it with Blu-ray and home video release news and reviews. Tea Time with Tia has been terrific as has Top 10. Michelle is killing it with the On This Date entries and Martin is crushing the comics reviews and interviews. Thank you to our podcast hosts, Juwaan, Dane, Chris. Our great friends over at Who Would Win, The Main Damie, Scene N Nerd, Gutting the Sacred Cow, Shawn with Lights Camera Pro Podcast, Music City Drive In. Film Optix, Jay Sandlin, and many more!
Brittany:
I'm excited to see a shift from movies to extended series because we get to see a much more developed sorry. This year has really made a push in that direction.
The Coal Santa Brought to Our Doors
Martin:
For myself, one of the bigger disappointments of the year was the necessity to postpone or cancel the different comic cons. It's the first time in a long time that both the SDCC and NYCC were forced to cancel. As disappointing as it must have been for them, it was even more so for the fans. Especially those who planned their yearly activities around these popular fan events. For myself, I was extremely fortunate that the local Richmond GalaxyCon went as scheduled. This was in February, before the worst of the pandemic hit.
As with most studios, Marvel was hit pretty hard by the postponements due to the pandemic. The Eternals, Black Widow, and Shang-Chi were all originally scheduled for 2020. Now they are looking at the middle of 2021 or later. There have been mentions of possible streaming possibilities but for now, they are trying to hold on to their theatrical releases.
Tia:
There's been a lot of bags of coal gifted to us this year. From all of the movies pushed back, to NYCC and SDCC going remote, and just the influx of insufferable TikTokers have made 2020…feel like poo. I just want Black Widow to come out! I was also disappointed that shows like Brave New World and Penny Dreadful: City of Angels were canceled this year. Movie theaters are still closed and Broadway has shut its doors for what feels like the foreseeable future. I'm pretty bummed about it.
Ish:
The Coal: 'I'm Thinking of Ending Things' on Netflix (written and directed by Charlie Kaufman, starring Jessie Buckley, Jesse Plemons)
Senior Writer at GeekVibesNation – I am a 50 something child of the 70's who admits to being a Star Trek/Star Wars/Comic Book junkie who once dove head first over a cliff (Ok, it was a small hill) to try to rescue his Fantastic Four comic from a watery grave. I am married to a lovely woman who is as crazy as I am and the proud parent of a 18 year old boy with autism. My wife and son are my real heroes.